For the most part when it comes to wine, my amateur status (I'm maintaining it to compete in Olympic wine tasting….) precludes me from being skeptical in the wine world. A designated wine expert could be spouting the most ridiculous fiction and my only response would be to agree and nod along blankly.
When it comes to wine, I am an absolute credulous idiot.
Except when it comes to wine matching with food. Then, I am a hard-line, unconvinced skeptic.
I have never understood matching of wines and food. I have never felt that one enhances the other. I like steak and red wine but that's because I enjoy them individually, not because they form a magic combination together. Same goes for wine and cheese, wine and chocolate (blegh…), wine and seafood… I believe that people enjoy the association of good things (alcohol and stuffing your face) rather than the components actually having any kind of synergy.
However I was recently afforded the chance to dine at Attica (recently voted
Australia's no.1 restaurant
) and thought if anybody knew how to match wines with food, it would be them. So I took a punt at their wine matching with their tasting menu.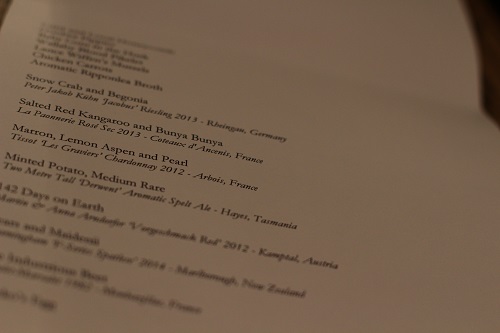 (It goes without saying that the food was amazing)
The Combinations
Snow Crab and Begonia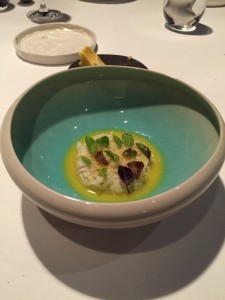 Peter Jakob Kuhn 'Jacobus' Riesling 2013 – Rehingau, Germany
Wine before dish: The riesling was a bit too sweet, can taste a bit of zestiness, but it is definitely not something I prefer to drink alone.
With the salt crab: I felt it really enhanced the zestiness of the riesling, and the Begonia herb significantly (and deliciously) popped out. The wine's sweetness really toned down, and the really interesting flavours of the wine were revealed.
Salted Red Kangaroo and Bunya Bunya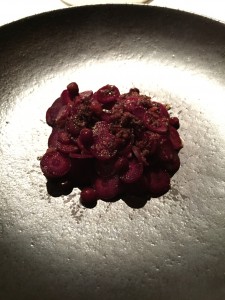 La Paonnerie Rosé Sec 2013 – Coteaux d'Anceins. France
Wine before dish: Perfumed, light bodied. I do not like Rosé although this one is better than most. It always reminds me of rose-scented soap water and feminine hygiene products. Tannins gave a slight dustiness on the end.
With the kangaroo: an earthiness to the wine was revealed and the 'hygiene product' flavours disappeared. The tannins definitely added to the savoury length of the dish.
142 Days on Earth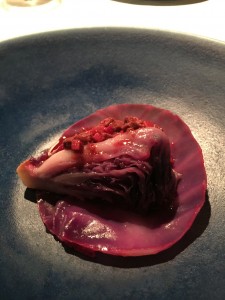 Martin & Anna Arnorfer "Vorgeschmach Red'
 2012 
– Kamptal, Austria
Wine before dish: Vorgesmach was a really quite a spectacular red on its own. Fruit with earthy undertones.
With 142 Days on Earth: more earthy characteristics were revealed; however I really preferred the wine on its own.
The Industrious Beet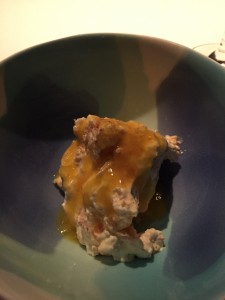 Theulet-Marsalet 1982 – Monbazillac, France
Wine before dish:
  Dessert wine aged 30 years. Sweet (
duh…
), rich and complex. A slight waxiness to the aftertaste.
With the Industrious Beet: mandarin peel and pithiness brought out the spiciness of the wine. Pleasant bitterness of the peel was enhanced by the waxiness of the wine.
Positive pairings: 
The ones that really popped out for me were the riesling and the rosé. Both are wines which I would not choose to drink but were significantly enhanced by their respective dishes. The real surprise was that they (in turn) improved characteristics of the food as well.

Neutral pairings:
The last dessert wine (which I would say was the best dessert wine I've ever had) revealed a lot more spiciness in the wine itself on tasting the food. The waxiness of the wine definitely enhanced the dessert. However I would not say that the wine was improved with the combination with the food.
Unconvinced:
Vorgesmach I felt was a well balanced wine with the earth undertones supporting plummy flavours and a layered complexity. With the dish the earthiness was accentuated but the wine itself became flat and one-dimensional.
Summing up: 
Some aspects of the food were certainly enhanced
Wines I did not like were improved
Wines I already liked had their characteristics changed but were not improved by food
I do believe that Attica's sommelier is some kind of genius.
Don't call me a convert or true believer just yet. But consider my mind blown.
If you can pair an individually amazing wine with a separately fantastic dish and have them both improve each other?
I'll sign up to your cult.