Pilu Restaurant Review
I have always wanted to (but never have managed to) visit Pilu,  an Italian restaurant with a focus on Sardinian cuisine. Not knowing very much about Sardinian food (having already confused Sardinia with Sicily with my amazing abilities at geography) I was looking forward to trying something new at the beach side house, which is home to the restaurant.
Wine
Prior to my adventures with the WineChatty crew I used to employ the following two-step strategy with wine lists
Turn to the red section
Pick the cheapest thing on the menu
The wine list at Pilu is remarkably extensive and also decorated with numerous awards (Gourmet Traveller, Wine Spectator, Sydney Morning Herald). The wines themselves were broken down into categories, apart from the usual Red ("Rosso") and White ("Bianco"), including by format (by-the-glass, small bottles, large bottles) and two sections focusing on wines from Sardinia ("Sardegna") and NSW (… "NSW"). The list is quite a thing to behold and amazingly detailed, but for your novice wine imbiber this is a touch overwhelming. Thus I employed my current two-step strategy.
Turn to the "Rosso" Section
Ask the sommelier
Sommelier: "What wines do you like to drink?"

Me: Pinot Noir

Sommelier: "What do you look for in a wine"

Me: Earthy stuff
This was all the basic information he needed to navigate us in the direction of
Franz Haas
Pinot Noir from Italy. Pretty simple and straightforward in the end huh?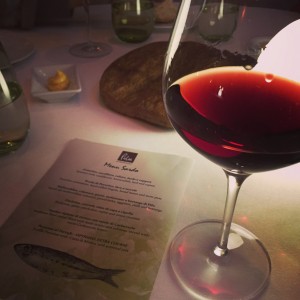 Tasting notes: Bright red fruit, counterbalanced with earthiness and savoury elements. It was quite unexpected as I usually associate earthy, savoury notes in Pinot with fruit on the darker end of the spectrum. A very long after-taste, which again was surprising as I think that the acidity and fruit were responsible for the length rather than tannins.
Food
In the same vein, we put our faith in the chef and went with the "Menu Sardo", a 5 course degustation for $105 per head. A la carte options are available as well however this time around we were content to give Pilu the driver's seat.
All the dishes were delicious but the stand out was squid ink Malloreddus (a type of shell pasta) with calamari, pencil leeks, eggplant, chilli and bottarga. Although not the prettiest, this was a mind-blowing dish with a brilliant interplay of textures and mild heat from chillis.
Another thing to note was that I had the expectation that the Sardinian fried pastry for dessert would be crispy but instead was delightfully chewy, bursting with ricotta from the middle.
This is not the usual Italian fare that you bump into in Sydney. If you want to experience something special then head over to Pilu, put your taste buds in some of the most refined and skilled hands in the business and take a mental trip to Sardinia (not Sicily).
---
Pilu At Freshwater
Moore Road, Freshwater NSW 2096
Telephone: (02) 9938 3331
Fax: (02) 9939 1355
Opening Hours LUNCH Tuesday – Sunday, from 12 midday
DINNER Tuesday – Saturday, from 6pm
Tuesday – Friday lunch and dinner – a la carte & 5 or 7 course Menu Sardo.
Saturday lunch  – 2 & 3 course a la carte & 5 or 7 course Menu Sardo.
Saturday dinner & Sunday lunch – 3 course a la carte & 5 or 7 course Menu Sardo