Pound for Pound Pinot Kings: Austins & Co. New Release Pinot Noir
Although I have not tried too many Pinots from Geelong, I have tasted enough that a simple mathematical equation has manifested in my brain
Pinot Noir + Geelong = Tasty Time
A while back, I was impressed with 6 foot 6 Pinot Noir 2013 vintage which I thought punched well above its weight for its price ($18).
We were delighted to have the opportunity to try Austins & Co.'s new release pinot noir.
The Contenders  
6 Foot 6 Geelong Pinot Noir 2015 "6ft6" and Austins & Co. Pinot Noir 2014 "Austins"
Thoughts and discussion
PT: Initial thoughts on 6ft6/Austins?
SL: The nose on the 6ft6 is surprisingly good for a budget Pinot Noir.
PT: I was really surprised by the aromatics. I think those kind of flavour notes are usually only on far more expensive Pinot Noir
SL: Subtle "clean" oak with a touch of red fruit twang. Unfortunately the taste didn't live up to the expectations of the nose. But by itself the taste is still very quoffable for a Pinot Noir under $20. It's easy to drink and pleasing.
PT: I really enjoyed the flavours on the taste and found it to be very lively with some pepper and tar. I definitely thought the nose gave a different impression to how it tasted though.
SL: Quote from Nat "This is nice, a bit funky". She also said it tastes a little light bodied.
PT: hahaha yea…. I think that's my wheelhouse when it comes to Pinot
SL: I found it quite short on length
PT: It was short especially compared to the Austins
SL: I thought it was short before even going to Austins. I think that's what makes it work as an everyday Pinot for the masses.
PT: I'm definitely down with the 6ft6. It'll probably be featuring consistently in mid-week drinking mode
SL: It'd be a great choice as the "house Pinot Noir"
PT: I give this a bit of a step above house Pinot Noir but I think it's my bias for 'funky' flavours. I thought it was really strange that the aromas were very similar between the two, but couldn't be more different on the taste
SL: I agree the nose is quite similar for both, but I found the Austins had a little touch of smokiness to it.
PT: On the night directly comparing I thought the Austins was so mild. But when I had it later it definitely had a massive wow factor
SL: My first impression on the Austins was it definitely had multiple layers compared to the 6ft6. I think that it's helped by the dramatically longer length. There's the smoky oak that hits the start, then a smooth creamy mid to end and finishes with a little pepper and big fruits.
PT: Nice. I agree with the smokiness. I think of the 6ft6 as a kinda quick and fast punk song, while the Austins is like a cigar lounge for long contemplation
SL: 6ft6 is "Basket Case" and Austins is "Wake Me Up When September Ends"
PT: Hahahaha. Greenday is so appropriate especially with some of the vegetal, forest floor notes I got
SL:  🙂 
PT: 6ft6 a party wine? While Austins is more dinner party wine?
SL: I could agree with that. 6ft6 as a party/picnic wine
PT: Yea totally. They are both big on the bang for buck scale. I'd expect to pay a lot more for both
SL: Hell yeah. Great value. I gave the Austins about a 6.5-7 for value and the 6ft6 8+
PT: Ah. I gave Austins a 7.5 and 6ft6 an 8.5 for value. Any final thoughts or comments?
SL: Both highly recommend and represent fantastic value. All our lab mates who aren't big Pinot Noir drinkers all said they would buy both.
PT: Crowd pleasers with complexity?
SL: Punches above their weight class 
PT: Definitely agree with that. Should title the article Pinot Power Punchers
SL: Haha. Pinot Pound for Pound kings
PT: hahahaha. That's pretty good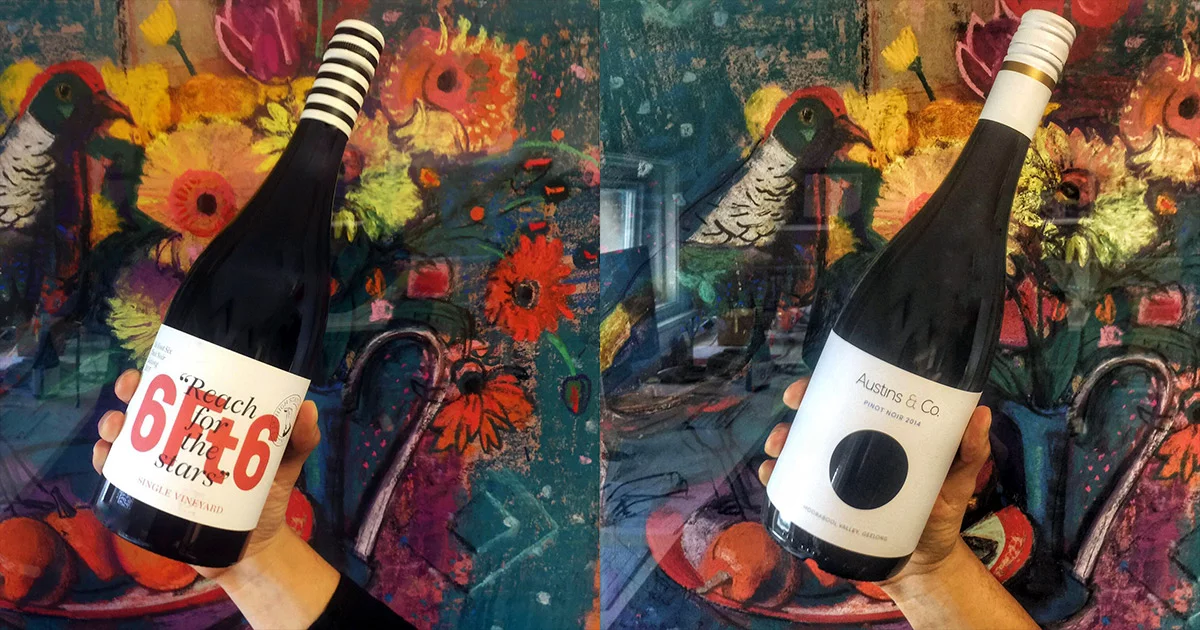 Quotes from around the table
About the 6ft6
This is nice, a bit funky Natalie
Easy to drink, not too acidic Ashley
Doesn't live up to the expectations of the lovely nose Rania
About the Austins
Creamy. A bit "whole-bunchy" and has a smoothness, I like it. Natalie
Reviews and Ratings
Review: Austins & Co. – 6 Foot 6 Pinot Noir (2015)
Review: Austins & Co. – Pinot Noir (2014)