When a 6-pack just isn't enough!
To me, Fat Yak is a gold standard of deliciousness, value for money and is also the benchmark to which I compare to all other beers. It is reliable and flavoursome to drink on its own, but also flexible enough to be enjoyed with snacks or a meal. It is a perfectly charismatic leading man for your Hollywood blockbuster, but adaptable enough to be a character actor in arthouse cinema.  So many times have I extolled the classic attributes of Fat Yak that I have begun to notice that Team WineChatty's eyes will glaze over when I initiate my well-rehearsed tirade.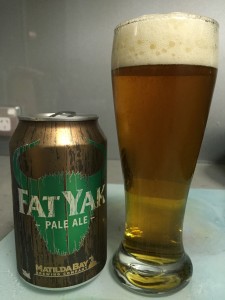 I am unsure if this is common knowledge but to my great joy, the team at Matilda Bay have repackaged Fat Yak into 10 pack cans.
Apparently the movement of craft beer in cans is driven by the trendy beard hipster movement. For me, the sheer convenience of cans over bottles has just made the whole Fat Yak experience that much more perfect. Cans are lighter and pack tighter, reducing pollution associated freight. They provide much better preservation than bottles as they do not let in any light (which is destructive to the organic compounds that are the origins of tasty flavour).
The box itself is sturdy and easy to handle with one hand, so taking it from the liquor store feels like walking out with a 6 pack…. but you get ten. 
Most importantly they are much much easier to dispose of compared to bottles (which are a pain and you end up with a mess like this after a while).
I am unsure if any there are any other beers on board with this type of packaging. But if this takes off then I believe that we'll soon be referring to 10 packs rather than 6.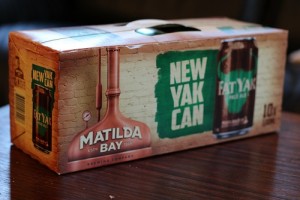 Kudos to Matilda Bay for this innovation. I actually feel like this is a bit of a game changer. Time will tell.
Ten!