Green beer, diarrhoea and penis waffles
Well the trip didn't get off to the most auspicious start with a bout of rancid diarrhoea gurgling in my guts the night before the flight. This certainly made the flight interesting if only for the fact that the plane's toilet was rapidly quarantined as a toxic hazardous area after I had dropped some serious devastation on it. (Editor's note: Glad I took a separate flight!)
I was determined for this not to interfere with drinking (or fooding) and loaded up on imodium which plugged things up pretty quickly (I stress tested this with beef noodles, cake, fried street food and whiskey…. not a drop escaped).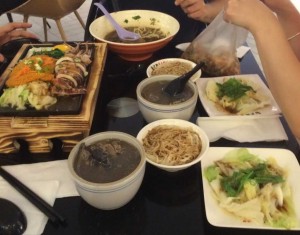 So with a skip in my step and a slightly leaky rectum in my pants, I bring you WineChatty's whirl wind tour of Taipei.
Taipei is a friendly place with a predominance of cafes rather than bars or pubs (try to find a sports bar…. anywhere). Still there are definitely places to get your drink on. 7-11 for example, which was our first stop.
Fruit flavoured beers!
Pineapple beer? Grape beer? This I had to try.
The following is our conversation with our local Taiwanese mate.
WineChatty: "Does anybody actually drink these?"
Taiwan: "Yea. Like girls drink it man"
WineChatty: "Oh so is it worth drinking?"
Taiwan: "Oh yea, Taiwan is famous for pineapples you know? Hand me the pineapple beer"
As it turns out it is mainly fruit juice mixed with beer. Definitely not my preference but also not as unpleasant as I thought something so sweet would be. And yes, we confirmed that girls do like this stuff as well.
 Luckily we found some standard lager beer as well as the fruit "beers". This tasted much better although any beer after the fruit beers would look comparatively good. But hey, it's a Gold Medal Taiwan Beer! So can't be that bad.
Eventually we found our way to one of Taiwan's first microbreweries, the Le Ble D'Or, located at the 4th level of the Q-Square shopping complex. They serve lagers: a regular lager, a stout, and a honey lager. Their lagers have a German influence with a local twist, for example the honey lager is made with Taiwan longan honey. They experimented with other ingredients and previously offered a "smoked" beer where they used smoked malt from Denmark, however this was not available when we visited. There's more detail in an interview with the brewer, Quentin Yeh, in this article here.
After experiencing a few more bars we got the sense that beers were generally very fruity and short on length. It may be that our Australian Palates are used to heavy bitterness and hops but overall we did not feel there was much flavour. Even a green beer brewed from spirulina did not have too much to differentiate itself from its' more normal coloured brethren.
On the other hand the combination of humidity and pollution (no wonder people where those surgical masks around) may call for a lighter beer. Some of the girls that tried the beers and really liked them so maybe we are being overly harsh (and WineChatty needs a female contributor).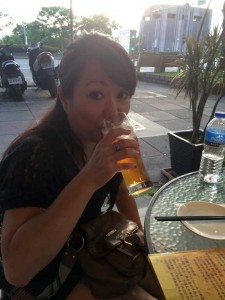 If there's one thing that Taiwan loves it is novelty themes and if there is a premier novelty it is the world's favourite cat (or controversially a girl who is not a cat 
http://www.sbs.com.au/news/article/2014/08/29/hello-kitty-not-cat-never-has-been
) Hello Kitty. It really is saying something when, by the end of the trip, I was completely unperturbed by the presence of a Hello Kitty Breast Feeding room at the airport.
But what sent shivers of excitement down my spine was Hello Kitty branded alcohol!!!!!
The purpose and/or demographic for this product is exquisitely confusing. Who would drink this? What occasion calls for it? Dining out? Dinner party? BBQ? Romantic date?
Penis Waffles!
Of course that paled in comparison to our discovery of penis waffles in Shilin Night Market.
Not bad tasting for novelty penis cakes. I thought they would be a lot more plastic. Actually the savoury ones with a sausage rammed in the middle looked really good but we didn't get a chance to try them.
By the way they are called Gaykes. Subtle as a sledgehammer isn't it?