Mod Bar: A cosy whisky bar with style
Whenever you fly through Asia, the incredibly thorough and varied displays walking through duty free lets you know that whisky is a very big deal.
Being the savvy travellers that we are, we googled "whisky bar Taipei" and picked the first one to come up: Mod bar.
Mod bar's entrance is particularly unassuming and if you are not really looking it is very easy to miss. We were unsure of whether to enter or not as it looked like we were going to push our way into someone's home.
Instead of barging in on a family dinner, the non-descript door opened to a cosy dim lit whisky bar. Low lamps, leather booths perfect for whisky sipping and also unusually, a giant poster of Peter Frampton (guitarist of the Who) glaring at us from the back of the bar.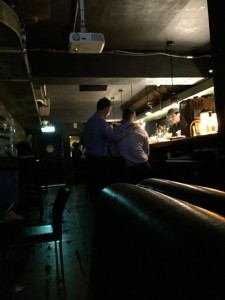 I'm pretty sure that "Mod" is a music style and the bar is styled as such with subtlety. Although probably more easily clarified with a quick wikipedia, we asked our bartender what 'Mod' meant. He gave a slight perplexed pause, said "Good question", laughed, then sped away quickly to get our drinks.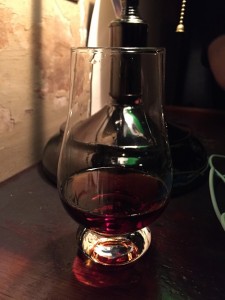 Despite our whisky sommelier not knowing the meaning of his work establishment's name, he was particularly attentive and enthusiastically pulled out all kinds of whisky bottles. I'd like to give you a general run down of the whisky's we had but to be honest, things got fuzzy pretty quickly.
However what was noticeably absent on the whisky menu was a whisky of Taiwanese origin. On enquiry to our intrepid service he said "Yes, we have some and would you like to try?"
Would we like to try?? Off-the-menu native whisky? Hell yes!
Well it was definitely an experience. Kavalan Taiwanese Whisky tasted like a hybrid between cognac and whisky, although I would give cognac taste a dominant percentage of that. It is also very dark in the glass and also tastes 'dark'. I liked it although it was a bit confusing.
I found the Kavalan a little thick and had the sweet syrupiness of a cognac (presumably from the sherry cask) but with a touch of the whisky peat. Although very pleasant and I'd drink it if it was given to me, I would just buy a cognac if I was after that style and stick to my personal fav, Laphroiag Quarter Cask, for whiskey.  Sammy's view on the Kavalan Solist
I will say that our little group of four had a lot of whisky, a lot of laughs and by the blurry time of 4 am had had a smashing good time.
Stumbling out into the street we came across what looked like an Ardberg stand.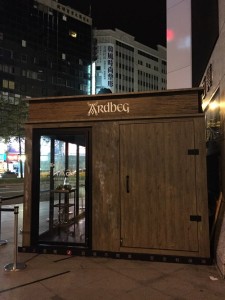 On closer inspection we spotted a fellow within, crouched over with headphones doing…. something …  at 4 am in the morning.
Working? Chilling? Meditation? In an Ardberg whisky stand at 4am in the morning? That's dedication, yeah whisky's definitely a pretty big deal in Asia.