WineChatty does the Yarra Valley
Part Four: TarraWarra Estate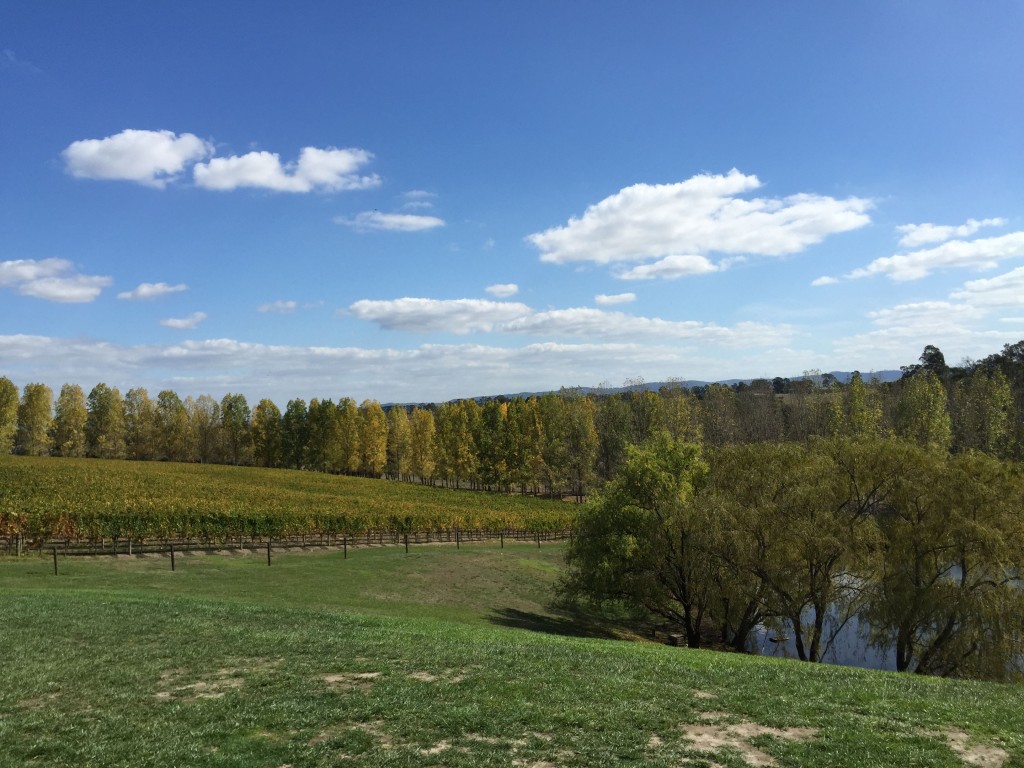 Winding our way up the driveway the impression you get off the TarraWarra Estate is BIG. This is a big estate. It is big business. This is a big bigness.
You make your way to the cellar door from the carpark past intimidating concrete walls and pillars to an incredible view of sprawling vineyards. There is a restaurant at the cellar door and it would definitely be an experience to spend lunch/afternoon there just taking it all in.
The monoliths certainly inspire a sense of solemn gravitas and it comes as no surprise that the estate hosts an art gallery. For a small charge you can make your way through the exhibits which (at the time of our visit) were pencils/watercolors based on a Chinese ghost tale, Aboriginal bark art and a design studio by RMIT (they actually had a tutorial going on at the time so I wasn't really sure what to make of it as an exhibit). It was definitely an experience and I would say that the Aboriginal art in particular was amazing. However I'm even less qualified to talk about art than I am to talk about wines.
Speaking of which…
The Wines (Standouts in Bold)
1. Roussanne Marsanne Viognier 2013 a very interesting aroma viognier smells amazing and according to our host, is really a
wine which is good with food
2. Estate Chardonnay 2013 More heavily oaked nose than we've come across and tasty
3. Reserve Chardonnay 2013 a tighter and more subtle wine but actually I liked the Estate Chardonnay better
4. J-Block Shiraz 2012 Incredible aromatics. Dark fruit aromas fill the glass. It is a lighter body shiraz and the tannins are quite fine already. Winner
5. K-Block Merlot 2009 Juicy and fruity but not my preference. However this got rave reviews with those that I was with. So… another winner?
The imposing estate environment had prepared me to expect strong sledgehammer flavours. However in stark contrast to the surroundings, I found the wines themselves to be light and agile. What struck me most about TarrawWrra wines are their incredible aromatics. If you enjoy putting your nose in the glass and breathing in deep these are the wines for you. Scented, perfumed, Fragrant.
TarraWarra Estate door is open  Tuesday to Sunday, 11am to 3pm (Lunch only – from 12pm)
More information can be found at: http://www.tarrawarra.com.au/

The rest of the Yarra Valley tour: