Beer Tasting 27/6/15: Red Ales, Scotch Ales, Saison and Hefeweizen
Time for another beer tasting! Team WineChatty got together to tackle another 19 beers. The last beer tasting was heavy on pale ales, so this time around we wanted to look into 4 styles which were more unfamiliar: red ales, scotch ale, saison, and hefeweizen.

The rating scale
1-3= Toxic
4= Offensive
5 = Pass (You would drink it if put in front of you)
6= Pleasant but you wouldn't go out of your way to buy it
7= A great beer that you would buy at the bottle shop
8-10= Outstanding
A few interesting things to note:
Coming into this, I thought that it would be more revealing about the characteristics of Red Ales and Scotch Ales. However, due to the high variety in flavours, we came away from this not really getting an idea of what is characteristic of these two styles.
The Red Hill Scotch ale had a remarkable frothiness and a particularly persistent head. Have you ever finished your beer and had the full head remaining at the bottom of the glass?
Bridge Road Brewers are putting out some fine beers and I am a huge fan of their body of work. The winner was the Chevalier Saison:
Although Saison remains a mysterious 'seasonal' beer, I believe that floral and barnyard flavours are quite characteristic of this style.
Quote of the Day
"Strongly flavoured beer, capsicum, savoury. Not amateur, tastes almost like a wine in its balance. Hoity toity. Malcolm Turnbull."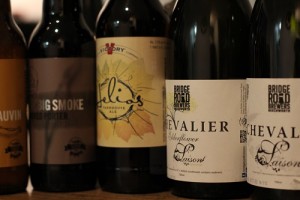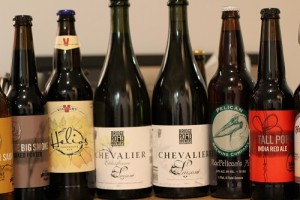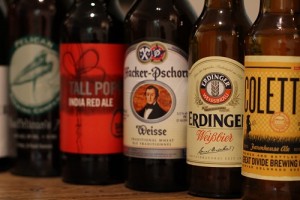 Top 3
Bridge Road Brewers Chevalier Saison – 8.3
North Coast Red Seal Ale – 8.0
Great Divide Colette – 7.9
| | | |
| --- | --- | --- |
| 1 | 8 Wired Tall Poppy, Red Ale | 7.2 |
| Will | Has the tang and minor key of stouts. Lacks joy. Not a comfort beer. Beer is saying I want to kill myself. | |
| Peter | Vegemite on the nose. It is a bit harsh on the end. | |
| Sammy | Taste like a stout without the mouthfeel. Hoppier than I expected. Not what I expected from a red ale (maybe that's why it's an Indian red ale). Better if it was less hops. | |
| 2 | Bridge Road Celtic Red, Red Ale | 7.4 |
| Will | Has the dirt taste of ales. (That sounds worse than I mean.) It's perfectly fine, but it's no Red Trolley. | |
| Peter | A much more subtle and balanced beer than ones preceding. | |
| Sammy | More of a red ale than the other 2 (nos. 1 and 6). | |
| 3 | HopDog Redhopulous, Red Ale | 5.0 |
| Will | Contaminated homebrew, old detergent water, sourness. This doesn't even taste like beer, and not in a good way. Aftertaste not great. During taste also not great. | |
| Peter | Fails as a red ale. Tropical fruit cocktail characteristics | |
| Sammy | Regurgitation and garbage on the nose, covers the fruit end. A bit of detergent end and slightly sour. | |
| 4 | Mad River Jamaica Red Ale, Red Ale | 7.7 |
| Will | Buttery, creamy, flavour develops from beginning to end of a taste. Takes you down a mad river. Would it be too much if you drank a couple of bottles? We should find out. | |
| Peter | Caramel. Nice level of hops. Most red ale-like of the red ales we've had. Yeasty. | |
| Sammy | Creamy, caramel and yeasty. Looks unfiltered. Sweeter, and a little more hops than #2. | |
| 5 | North Coast Red Seal Ale, Red Ale | 8.0 |
| Will | Mild, balanced, not too strongly flavoured ale flavour. Disappointed only because I'm searching for something wheaty. | |
| Peter | Floral. Has a hop level without bitterness. Some honey on the front. | |
| Sammy | Looks like an amber ale more than a red ale. Has a little bit of jelly flavour, sweets taste. More like a lager than a red ale. But still very easy to drink. | |
| 6 | Stone & Wood Jasper, Red Ale | 6.8 |
| Will | Tastes like wood and dusty furniture... interesting in a tasting session. | |
| Peter | Smells Vegemitey. Fairly light on flavour drinking though. Would do well on a hot day. | |
| Sammy | Maltier and heavier than I expected. Vegemite-ish. But not that great a beer, flavour-wise. | |
| 7 | Founders Brewing  Dirty Bastard Scotch Ale, Scotch Ale | 7.1 |
| Will | Stouty tones, drowned out by alcoholic finish. | |
| Peter | Toffee characteristics, quite a nice length but quite alcoholic on the end. | |
| Sammy | Toffee nose and taste. Can taste the alcohol at the end. Like a soju aftertaste. | |
| 8 | Red Hill Scotch Ale, Scotch Ale | 4.9 |
| Will | Sourness tastes like bad homebrew. Olive juice. Triggers my contaminated liquid response. | |
| Peter | Very frothy. Some sourness. I've drunk all the beer but the head remains... | |
| Sammy | Very frothy, ovaltine like smell. Sour and soy taste. Too much froth. A little malt flavoured. | |
| 9 | Great Divide Claymore Scotch Ale, Scotch Ale | 5.4 |
| Will | Flat, boring, no bubbles, dishwater aftertaste, cold coffee leftovers. | |
| Peter | I am entirely neutral. I am Switzerland. | |
| Sammy | Malty on the nose. Looks dark and completely no head on the pour. | |
| 10 | Pelican  MacPelicans Scottish Style Ale, Scotch Ale | 5.8 |
| Will | No comment. | |
| Peter | Also neutral. | |
| Sammy | Like a larger. Not much to say. Bland and boring. | |
| 11 | 8 Wired Saison Sauvin, Saison | 7.5 |
| Will | Very different beer: aromatic, tangy, hay, citrus. Might be too acidic. Worth the tasting, though. | |
| Peter | Barnyard flavour and complexity. Creamy length. | |
| Sammy | Smells like apples and pears. Pleasant and light in taste. | |
| 12 | Bridge Road Chevalier Saison, Saison | 8.3 |
| Will | Very pleasant saison. Long aftertaste of yeast, initial smell of white wine, tastes of flowers, hay, grass. | |
| Peter | Flowery. Yeasty after taste. Barnyard on the mid-palate. | |
| Sammy | Smells like a yeasty white wine. Little savoury on taste. Summer drink. Very nice easy to drink, good flavours. Very light, golden colour. | |
| 13 | Great Divide Colette, Saison | 7.9 |
| Will | Yeasty finish, well controlled saison flavour.  Not too much going on, but well controlled. | |
| Peter | Yeasty and citrusy. Subtle and well balanced | |
| Sammy | Citrus yeasty nose, has that white wine smell too. | |
| 14 | Victory Helios Ale, Saison | 5.7 |
| Will | Laundry powder, lavender, curry leaf. Not repulsive, but a bit limp-wristed. | |
| Peter | Brett flavours. A bit too "Fab" for me. | |
| Sammy | Morning fresh detergent smell, and a bit floral. Smell deterring. | |
| 15 | Bridge Road Chevalier Elderflower Saison, Saison | 7.8 |
| Will | Strongly flavoured beer, capsicum, savoury. Not amateur, tastes almost like a wine in its balance. Hoity toity. Malcolm Turnbull. Bad NBN Tastes, like 3MB upload speeds. | |
| Peter | Green & peppery. Floral. | |
| Sammy | Wholebunch-ish wine smell. Capsicum flavour, floral note. Crisp. | |
| 16 | Paulaner Brauerei Hacker­Pschorr Weisse, Hefeweizen | 7.4 |
| Will | Decent hefe flavour. Seems a bit weak and watery on the end. Best hefe so far though. | |
| Peter | Creamy, a bit flat. But flavour pretty nice and balanced. Easy drinking. Clean finish. | |
| Sammy | Standard hefe smell. More wheat than banana.  Taste a bit of carrots. Decent mouthfeel. Would be alright, if you're not sensitive to carrots like I am. | |
| 17 | Hargreaves Hill  Hefeweizen, Hefeweizen | 7.0 |
| Will | A bit watery for a hefe. Ends in a soapy, weak banana flavour instead of the expected yeast. Drinkable, but a slight disappointment. | |
| Peter | Banana. Very strange foaminess through it's length | |
| Sammy | Sweaty and banana on nose. Light taste, not much mouthfeel nor taste. Bubble detergent-ish. | |
| 18 | Erdinger Weissbier , Hefeweizen | 6.1 |
| Will | Cheap trash. | |
| Peter | It's ok? | |
| Sammy | Bland nose and nothing special, very commercial. Kind of watered down fruit flavour, no length at all. A popular commercial style. | |
| 19 | 8 Wired The Big Smoke, Smoked Beer | 7.2 |
| Will | Accurate name. Reminds me of camping which is nice. Don't think you could drink too much in one go unless you needed to absorb some toxins from your GI tract. | |
| Peter | Ash. Smoked ham. Like all fumes went up my nose and collected in the mucus. Burnt ass. | |
| Sammy | Dark and dense in colour. Smells like bacon and smoked meats. A little sour aftertaste. Taste like smoke meats and malty sweetness. Doesn't stay too long in mouth. | |