La Boheme Act Three Pinot Gris & Friends from De Bortoli
The Wine Review:
Wow look at that a label! I'm hoping that this lives up to the gloriously over the top design.
Some floral, green apple and honey aromas backed by a subtle oakiness Apple on the taste. Lean and nicely balanced with a crisp acidity Surprisingly more complex than I thought and lives up to the packaging.
Like going to your favourite band's concert for the first time and finding out they are just as good live.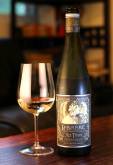 Other Infomation
La Boheme Act Three Pinot Gris & Friends
Alternate years - Reviews of a different vintage
Second opinion - More reviews for this wine