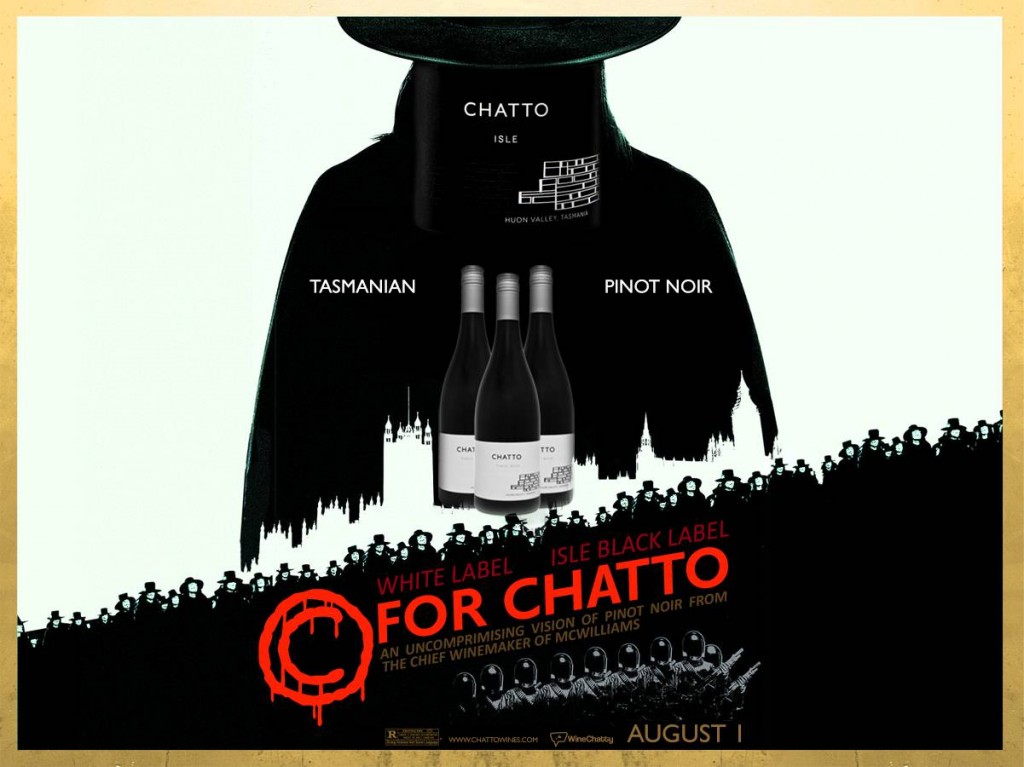 Title: C for Chatto
Genre:
Action-Thriller
Running Time:
TBA
Rating:
 R18+ Chat Responsibly
Australian Release Date:
1/8/15
Director:
Jim Chatto
Starring:
Chatto White Label Pinot Noir 2014
Chatto Isle Black Label Pinot Noir 2014
Synopsis:
Since their first Pinot Noir vintage (the 2012), Chatto releases have featured in our annual tastings, taking out the number 1 spot in 2014 and performing strongly in 2015 (runner up) in a line up of Australian Pinot Noirs. We are very excited to see the release of the 2014 vintage, and expect Chatto to put on a tour-de-force performance to blow away the Australian public.
Production Notes:
Chatto Isle Black and White Label were tasted blind with two other Australian Pinot Noir (another Tasmanian (Tamar Valley), and a Victorian (Geelong)). All wines were laid out together which allowed for easy comparison and contrasting.
About the Cast:
Chatto White Label Pinot Noir 2014: The Chatto White label was a finely balanced, spiced and delicate pinot. It has complexity and yet also remains accessible. In fact we picked this one as a fantastic introduction to someone unfamiliar with Pinot Noir, as it showcases the positive characteristics of the varietal and powerful fruits of a Tasmanian vineyard. This is Natalie Portman, an A-list star who excels at complex character acting but also has blockbuster appeal.
Chatto Isle Black Label Pinot Noir 2014:
In complete contrast to the Chatto Pinot Noir 2014, the Chatto Isle 2014 had some challenging flavours which came as a bit of a shock. We all identified a grassy smokiness with gasoline hints. In the blind tasting, none of us picked that the White Label and Isle Black Label came from the same winery, much less the same vineyard. We feel it may be a bit to early to drink the Isle as it has some raw harsh qualities. However, although it is currently less balanced than the White Label, I kept coming back to it, and ended up draining the glass more often than the others. There is a lot going on in this wine; a bit of age to smooth out the rawness and for further development of the flavours will bring about something pretty special. This is Hugo Weaving, someone who has made
out-of-the-box choices
and steals the show from the charismatic lead.
Technical Specs
Location: Chatto Wine's Isle Vineyard, use for both labels, is located in the Huon Valley of Southern Tasmania. The vineyard itself is north facing block of 1.5 hectares on a well drained site composed of Permian Limestone and Calcareous mudstone.
Quantity: 2014 was high quality but low yield thus only a small volume was made. From the low yield of grapes, only 1200 bottles of the White Label and 600 bottles (from one puncheon) of the Isle Black Label was produced.
Production: There is an 8 day cold soak of roughly 25% whole bunches. Wild yeast fermentation. After 15 days on skins it is subsequently pressed to French puncheons (30% new)
ABV: 13.5%
Price: $50 (White Label), $70 (Isle Black Label).
Did You Know?
Trivia
There is ~25% of whole bunch used for both the White Label and the Isle Black Label.
The White Label uses 25% new French oak while the Isle Black Label uses a 1 year old puncheon.
The White Label comprises six Pinot Noir clones (114, 115, 2051, 8048, 777 and MV6) while the Isle Black Label is from a select patch of the Isle Vineyard that is 100% 777.
Jim Chatto discovered the potential for Tasmanian Pinot Noirs while working as a young winemaker at Rosevears Estate (Tamar Valley) back in 1998.
The Chatto Pinot Noirs are inspired by the great wines of the Cote de Nuit: wines that clearly express site and season.
Quotes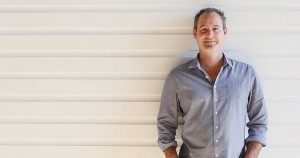 "Great fruit, great oak (in balance), let the vineyard talk." Jim Chatto
Tasting Notes
*Note our scoring scale is slightly different than other wine reviewers. In short, anything above 7.0 is considered worthy of buying, but see here for more details.
Chatto White Label Pinot Noir 2014
Brett
Smell (8.5): Slight smoke. Very savoury
Taste (9): Black pepper, toasted oak, and a good whack of tannins right on the tip of the tongue.
Value (9)
Total Score: 8.8
Peter
Nose: Spicy, juniper berries
Taste: Delicate fruit. Spice through the length. Quite savoury with slightly bite from tannins and oak on the end
Total Score: 8.5
Sammy
Nose (7.5): Has typical red fruits in the bouquet surrounded by toasted oak. The nose is simpler than the Black Label but just works.
Taste (8): On the palate it has a light fruity Tassie style, quite pleasant and easy to drink but still has complexity that has you pouring for more. Balanced out with a tingling of acids on the finish.
Value (8)
Total Score: 7.8
Averaged Score: 8.4
Chatto Isle Black Label Pinot Noir 2014
Brett
Smell (7): Little smokey with a hint of cut grass. Earthy. There is an odd fuel-like smell initially when poured — thankfully, this mostly dissipates with a bit of airing, which makes the wine feel more balanced.
Taste (8): Tastes basically like it smells, and like the nose it gets better with time. Definitely a different expression of the Pinot grape — not in a bad way at all.
Value (8)
Total Score: 8.5
Peter
Nose: Grassy and Garbage Dump
Taste: Starts with fruit moves straight into savoury and earth qualities. Savoury, fish sauce, garbage dump. Soda water aftertaste. Grassiness and a touch harsh at the end. Those flavours sound negative but I find it to be a very interesting and challenging wine. Tasty and eccentric.
This wine is a goth clown girl you need to get to know before you realise that she's a polite, kind and considerate sex bomb
Total Score: 8.0
Sammy
Nose (6.8): The nose is quite strong on this one initially. It gives me a strong sense of burnt Aussie bushland and has quite a bit of toasty oak. Airing or decanting helps tone down the burnt smell a little and reveals a bit more of the fruit.
Taste (9.2): Quite a different beast on the palate, very complex and tastes earthy and "stemmy". Savoury and a touch of bitterness at the end, reminds me of ginseng roots. I feel like this one is a bit like riding a wild stallion, energetic and bucks a lot, never quite leaving you comfortable. The potential is there but just requires a bit of training (time) before you can see its true value.
Value (7)
Total Score: 8.0
Averaged Score: 8.2
At the time of publishing this post, the Chatto 2014 White Label Pinot Noir has been sold out as pre-release to existing members. It's not surprising considering the limited number of bottles produced and their notable membership base. There are still a few cases left of the Isle Black Label. So order yourself some 2014 Isle Black Label to cellar or sign up for membership so you don't miss out on their next vintage of the White Label at their website here:
http://www.chattowines.com/