Wine Battle: Penfolds Grange 2005 Vs. Penfolds Bin 389 Cabernet Shiraz 2005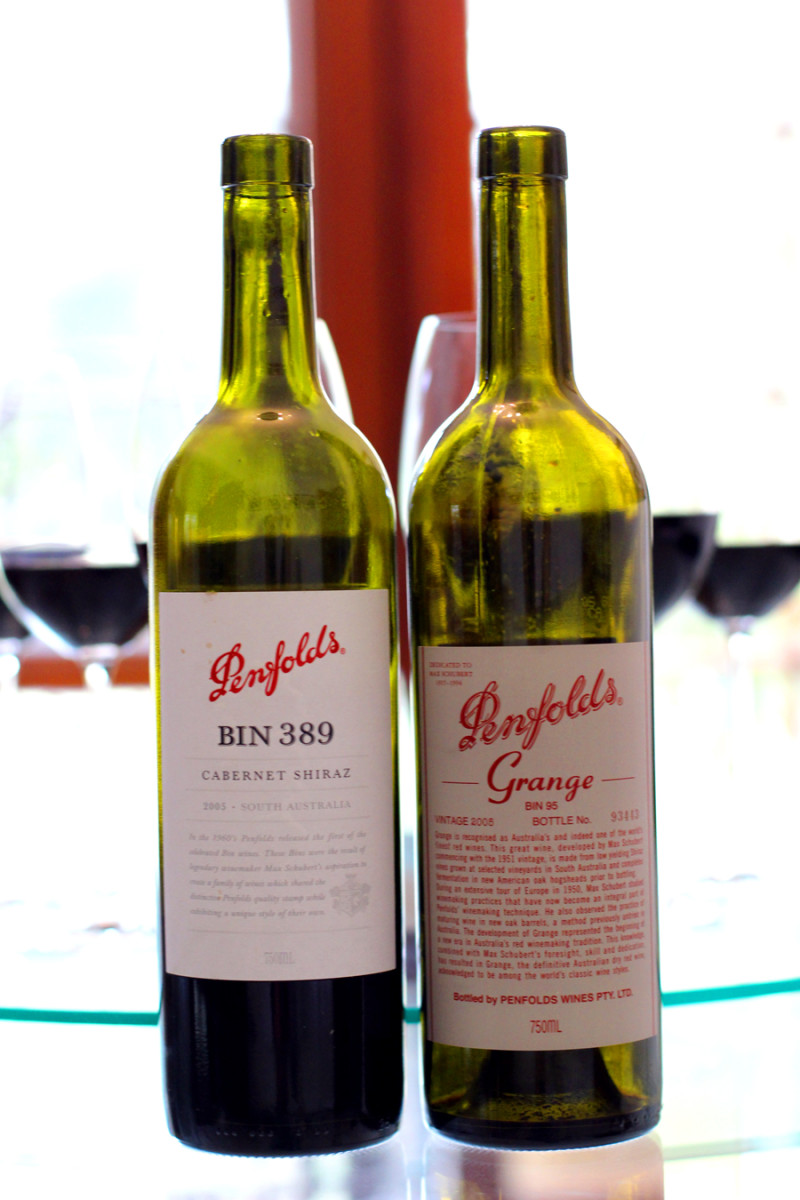 So my parents have jumped on board with wine tasting in a big way and last time I saw them I was ambushed with a blind tasting! 
I have not actually tasted many things blind (a bit hard to set up for yourself….) and thought this was quite a challenge considering the comparison is for the same producer
and same year. 
But the real question to be answered from this is "Can you taste the money?"
Tasting Notes
Penfolds Grange 2005 – $589
Aroma: Very pleasant complex aroma with oak and blackcurrant.
Taste: Overpowering dark fruit. Chocolatey, thick with tannins and jammy.
Penfolds Bin 389 Cabernet Shiraz 2005 – $95
Aroma: Not too much on the aroma pretty closed off. Has a little acetone/nail polish remover.
Taste: Finer tannin structure. A bit more restrained and refined on the palate.
Both wines were strong with dark fruit flavours (Plum, currant, blackberry)
Post-tasting debrief
Peter: Preferred the 389 to Grange in the blind tasting I picked the 389 as the Grange simply because that was what I liked more
Sammy: No surprise. The Grange wouldn't be ready to drink yet and would be still harsh with tannins Were they both decanted for a few hours?
Peter: >1 hour
Sammy: Interesting test I wonder if it's just because you preferred the bolder 389 with more cab in it
Peter: I actually preferred the 389 because it was more subtle. The Grange had overpowering fruitiness and tannins. I chose the 389 because it felt a bit more restrained and refined in comparison. Having said that I definitely preferred the aroma on the Grange. Probably an indicator of complexity to come
Sammy: Interesting. The fruit power of the Grange overwhelmed you a bit, not enough age for it to feel balanced would you say?
Peter: Definitely. It tasted to me like a pretty basic strong bold SA red.
Can you taste the money?
My thought process on tasting it blind was that the Grange had a far more pleasing and complex aroma than the 389 and I was veering towards picking the 'money' off of this first impression. However on the taste the Grange was very powerful, fruity and although had a luscious texture, the tannins were fairly overpowering and mouth drying on the end. In contrast, the 389 was more subtle, restrained and (at this moment) with a finer tannin structure and overall a better balanced wine.
Going by the assumption that more expensive things tend to be on the subtle side (and also my personal preference) I chose the 389 as the Grange. 
So was I able to taste the money?
Sadly, no.
Not at all.
I believe I need to keep my sub-$50 amateur status for a while longer before playing in the big leagues!